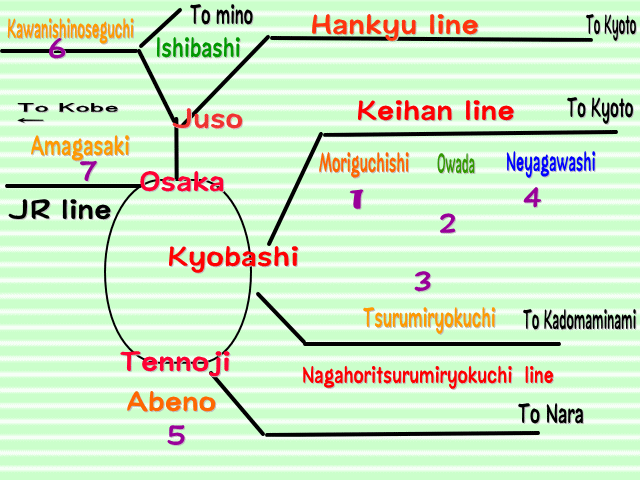 1.Moriguchi dojo(moriguchishimin gymnasium) Sunday 14:30~17:00 (Keihan line「Moriguchishi station」
2.Kadoma dojo(Kadomashiminplaza gymnasium) Tuesday・Fryday 19:00~20:40(Keihanline
Owadastaion take the Bus to Kadomadanchi. get off the kadomadanchi.
3.Tsurumiryokuchi dojo(Tsurumi sports center) Thursday・Saturday Kids class 18:00~19:30  
adult class 19:00~20:30 (Nagahoritsurumiryokuchi line. get off Tsurumiryokuchi station.
4.Neyagawa dojo(Neyagawashimin gymnasium) Monday adult class19:00~20:30 (Keihan line get off Neyagawash station )
5.Osakaminami dojo(abeno sports center) Sunday 18:30~20:30(subway Tanimachi line get off abeno station)
6.Kawanishi dojo(Kawanishi sogo gymnasium) Sunday Kids・adult 9:00~10:30(Hankyu line getoff Kawanishinoseguchi station.
7.Amagasaki dojo(Shimosakabe preschool) Wednesday Kids class 17:40~18:40 adult class18:45~20:30(from amagasaki JR amagasaki station take the Bus①to hankyu Tsukaguchi get off shimosakabe.